For years, people learnt magic by pouring over dusty old books hidden away in the corner of the library.
Now don't get me wrong…"If you want new magic read old books, and if you want old magic read new books." – Jeff Mcbride
But with the awesome advancements in digital technology and the introduction of eBooks, ANYONE can discover incredible magic secrets from their home.
In this blog post, I'm going to share with you the best 10 free magician eBooks around.
So let's get into it…
Here are the top 7 free magician eBooks of all time:
Magic Trick eBooks Pick No.1: Magic in Mind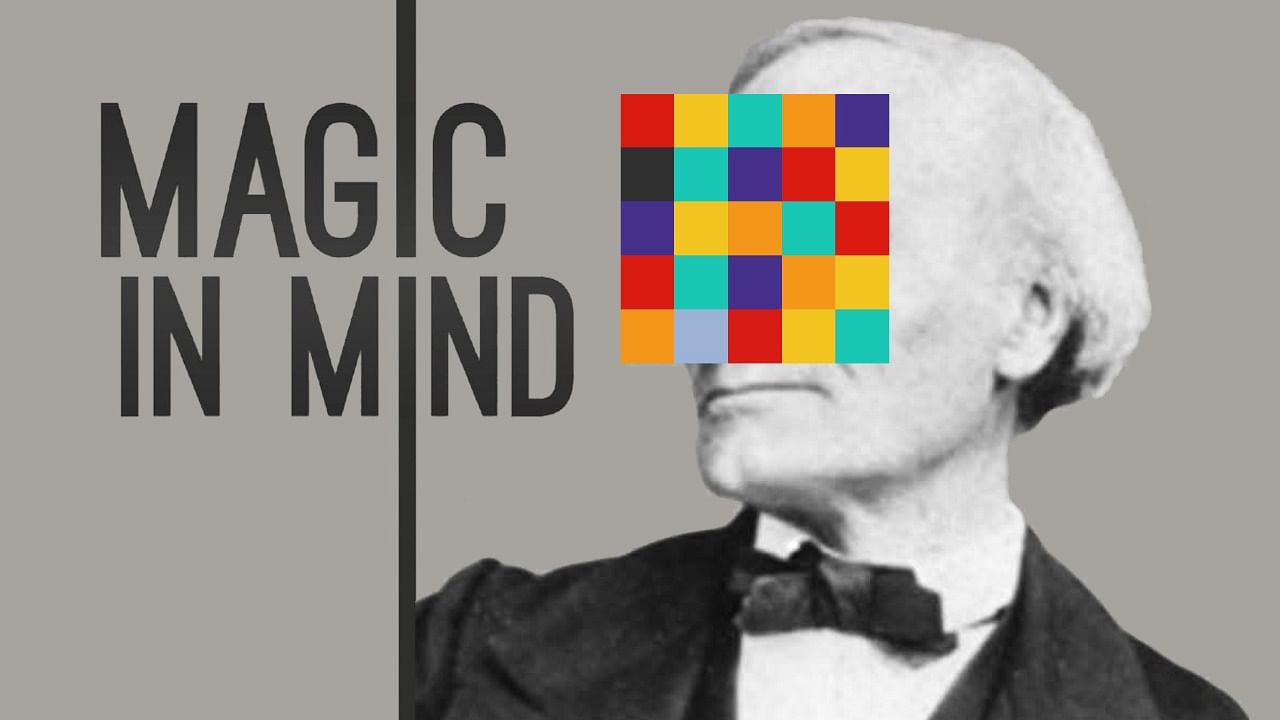 "Magic in mind is just like a life ring in the ocean of magic junk. Enough said." – Steven
What if I told you that this book has contributions from Derren Brown, Teller, and Juan Tamariz? How about if the book also included contributions from John Carney, Darwin Ortiz, Tommy Wonder, Pit Hartling, Rene Lavand, Tom Stone, and nearly thirty other magic luminaries?
And what if I told you that this collection was entirely free?
I wouldn't believe me either!
Amazing!
This book is seriously one of the best magic books I've read this decade.
Test my integrity below…
Magic Trick eBooks Pick No.2: Approaching Magic Practice

'This eBook contains everything I felt I should do, but never did. I have read the book and within 1 week of following it have noticeably improved'. – Ed Thurlow'
You captured perfectly what "I am" vis-à-vis magic.  And your advice on what to do in many circumstances is priceless. Your book is gold. It made me re-think what I am doing, why I love card magic, and plan out a better way to enjoy it.' – Barrett Sweet
Do you find that you practice your magic regularly, but fail to get the results you want? 
In this 102 page book, professional magician Dominic Reyes shares advice and techniques he has learned about effective magic practice over more than 20 years. The book is intended to give you a structured plan of action, ways to get faster results, and practical tips that will make a huge difference in your approach to learning magic tricks.
You Will Learn:
Why magicians waste so much time getting little result
How to avoid the 'pitfall of choice'
A structured, focused practice program
Ways to stay motivated
How to judge your progress
The psychology of practice techniques
How to spot and correct errors
Example study programs
Ways to Improve your existing material
How to build a presentation into your practice
The 20/20/20 method of practice
Techniques to avoid performance drift
How to set practice goals
The best way to remove a practice plateau
And much, much more
Magic Trick eBooks Pick No.3: How To Learn Magic Tricks

The Merchant of Magic team has written a 36 page free ebook showing you how you can get the most from the next magic trick you decide to learn. Written by professional magicians, 'How to learn magic tricks' leads you from the second you first receive, the trick, through to your first performance.
You will be taught:
Why you were drawn to that magic trick
All about Instant miracles
Using the creator as a resource
How to get the most from magic forums
The right way to use a practice drill
What they don't tell you in the instructions
Fitting it into your existing material
How to make it right for you
Important things you will need to change
Video in your training
What you really need to do next
And much more
Designed for both beginners and professionals. 'How to learn magic tricks' will help fast track you to an expert performance.
Magic Trick eBooks Pick No.4: The Perfect Trick
---
Imagine this…
First, your audience enters a phone number—on ANY phone—and calls it. Then, a stranger answers and tells them the name of the EXACT card they're thinking of.
We call this 'The Perfect Trick', and it is an incredibly powerful effect, and there're many ways of doing it. For example, you could give your audience a phone number which is actually the number of a close friend of yours. You and your friend might have a secret code by which you can tell them the card without anyone noticing. So when your audience calls the number, you secretly communicate the code to your friend without anyone noticing.
But this version of the effect has problems.
The audience might get suspicious if you get them to call a number YOU write down. They might suspect (rightly) that you and your friend set this whole thing up beforehand. It's still a solid trick, but it probably won't fool everyone.
Plus, how do you even come up with a secret 'code' to use with your friend in the first place? This might take a while, and there's no guarantee you'll be able to use it correctly 100% of the time.
As you can see, this trick has a lot of problems.
But here's the good news…
In a single PDF eBook, magician Jonathan Levit has put together a complete guide to 'The Perfect Trick' that:
– Solves ALL these problems!
– Allows your audience to CHOOSE any number (a completely free choice!)
– Uses ANY card
Best of all, in this version of the method, you don't need to say ANYTHING to the person on the phone (but they still guess the card right!)
Here's the even better news…
Not only does this PDF teach you all of the above, it's actually FREE to get when you click this link.
Enjoy!
Magic Trick eBooks Pick No.5: 202 Methods of Forcing:
---
Every good magician will tell you that one of the most vital moves to master is the card force.
But one of the most common problems in magic is knowing which force is right for you. Well, here's the perfect solution:
This eBook provides you with over TWO HUNDRED different methods of forcing. It was written by Theodore Anneman, a world-class mentalist. Anneman is famous for inventing and pioneering many of the routines that are common within mentalism today, and this book is a reflection of his genius. You'll discover some of the most fooling methods to force a card in magic, and by the end of reading it you should have a lot more ideas on which one YOU want to use in your magic.
But best of all…it's completely free!
Just click this link to get this eBook for free.

Magic Trick eBooks Pick No.6: Easy Card Tricks
---
Forces are cool, but let's face it. You came here because you want to learn real tricks. Not just techniques, but real usable tricks. That's where the next eBook comes in.
This ebook is packed with easy yet astonishing card tricks you can start performing right away. Some of the best ones include:
1. Classic Color Changing Deck
This is a great visual card trick that your audiences will love. First, a single red card turns blue (something which is powerful enough itself), but that's not the end of it. Next, ANOTHER card transforms color. Then, to the astonishment of the audience, the whole deck changes color. This card trick is really visual and will definitely get huge reactions from your audiences.
But fortunately for you, this trick is a lot easier than it looks—as you'll soon discover when you download this eBook.
2. Miracle Mind Reading
Using the previous eBook, you learnt a huge range of card forces. But in this trick, you'll learn how to actually USE a force as part of an overall trick. In this trick, your spectator chooses a single card. You reveal a stunning prediction that shows that you must have some kind of miraculous mind reading prowess. Plus, there's a surprise ending that I think you'll like.
3. Card to Pocket
This is one of the most famous tricks in card magic. First, the magician shuffles the cards. Then he lets the spectator select one (without letting him see what it is).
The magician says the magic words, and claims that the chosen card has just traveled all the way to his pocket. To prove it, he reaches his hand into his pocket and removes his wallet. Inside his wallet, impossibly, is the chosen card!
Usually this trick is only performed by experienced magicians, because it requires some intense sleight of hand called 'palming.' Palming is the art of concealing a card within your hand, but making it look empty. It's difficult to do, and as a result, not many beginners perform the 'card to pocket' trick.
However, in THIS version, you'll discover a super easy way to perform the card to pocket that requires ZERO sleight of hand, but is still incredibly powerful and will guarantee you huge reactions when you perform it!
Yet again, this incredible ebook is completely free! However, it is also a little trickier to get your hands on. Here's how to do it.
1. Go to this link: http://www.aaronfishermagic.com
2. Wait for a few seconds – a pop-up like this should show up:
3. Just enter your email address and the eBook will be delivered to your email.
If you mess up, just open that link up in a new 'private' window (or incognito on Chrome).
In addition to tricks, you'll also discover practical advice and magic theory that will transform the way you perform these tricks. Enjoy!
Magic Trick eBook Pick No.7: Memories Are Made Of This

This is Simon Aronson's Introduction into Memorised Deck Magic!
Memorised deck magic is a whole new world for the card magician, and it has become a blooming intellectual industry. On a personal note, Simon's thoughts and discoveries in this area changed the way I think about card magic. And taking your first two steps into this world are painless.
Memorized Deck magic opens up unique possibilities. It turns pick-a-card tricks into THINK-a-card tricks. It allows you to perform amazing tricks without ever touching the cards. We're all familiar with card controls (controlling a card to the top or controlling four Aces). With memorized deck magic, you are controlling all 52 cards, all the time.
But exploring the world of memorized deck magic evokes questions. Which stack do I use? What is a memorized deck? How do I learn one? How long does it take? What tricks can I do with a memorized deck?
All good questions. And Simon has some excellent advice on all these questions and more, and he is offering it to Vanishing Inc. readers for free. You have nothing to lose and everything to gain. Memories are Made of This is a little primer into a bigger world. In this booklet you have everything you need to memorize the stack. It will also help you decide which Aronson book is best to start with.
BONUS: Another 7 free books!
---
For those who have the time and energy to invest in a collection of physical books, there are plenty of great options out there.
However, many of you no doubt eye up those books with more than a little trepidation. After all, purchasing these books would have set you back hundreds (if not thousands) of dollars.
But what if you could take a 'peek' inside the books (and secrets) of the greatest magicians of all time…without paying a penny?
Actually…you can. It's free, easy and 100% legal.
Here's how it works:
One of the most popular pages on my site (that you may have already seen) is a collection of 24 classic magic books that you can read for free online, thanks to the magic of the 'public domain.'
In essence, what that means is that the copyright on these books has expired, so it's perfectly legal for you to read it online.
But, even if that's the case…so what?
After all, most of you have already perused that page to your heart's content.
Well, I just rounded up another 7 incredible books that are also available to read instantly (and, as ever, for free.)
You'll find links to them below, labeled for your convenience:
1. https://archive.org/details/400TricksYouCanDo – 400 Tricks You Can Do by Howard Thurston, one of the (if not THE) most commercially successful magicians of all time.
2. https://archive.org/details/TheSecretsOfStageConjuring/page/n9/mode/2up – The Secrets of Stage Conjuring by Jean Robert-Houdin, the 'father' of modern magic.
3. https://viewer.slv.vic.gov.au/?entity=IE6895776&mode=browse – Coin Magic; a Complete Manual of Coin Conjuring by Jean Hugard (author of The Royal Road to Card Magic and Expert Card Technique)
4. https://archive.org/details/TricksWithCoins – Tricks With Coins by T. Nelson Downs (author of 'The Art of Magic')
5. https://archive.org/details/discoverieofwitc00scot – The Discoverie of Witchcraft by Reginald Scott. This is generally accepted as the very first 'magic book' published and so while it's not exactly a gripping read, it's worth taking a look at just so you can say you have.
6. https://archive.org/details/ProgrammesOfFamousMagicians/mode/2up – Programmes of Famous Magicians. While you won't find any 'material' in here in terms of effects or tricks, you'll find the repertoire and performing program of many of the greatest magicians of all time (which any professional will tell you is invaluable advice in its own right.)
7. https://archive.org/details/AnnemannsMentalMysteries/mode/2up – Anneman's Mental Mysteries. More stunning routines from the 'GOAT' of mentalism.
As you dig into this list, let me leave you with this idea from Richard Hatch:
"if you want new ideas—read old books. If you want old ideas—read new books."

If you're still eager for more, check this out:
https://thedailymagician.com/classic-magic-books-lp
The link above will let you get another 24 of the best magic books of all time for FREE.
And for the truly adventurous conjuror, the link below was a great help to me in deciding on these selections, and will equip you with a whole lot more classic magic books available for free:
https://www.reddit.com/r/Magic/comments/5wci5y/to_get_a_new_trick_find_an_old_book/
eBooks vs Physical Books
---
Whenever I talk to magicians about eBooks, one of the most debated questions is this:
"Which is better? Real books or eBooks?"
That's a great question. I personally prefer enjoy physical books, but there are definitely some advantages to eBooks. Here's a quick comparison of the advantages…
Physical books:
– No 'battery' life – you can read as long as you want, without worrying about your device running out your charge
– Wider selection. Most magic books are only available as physical books, although the number of them available as eBooks is definitely growing.
– More satisfying to read. At least for me, I enjoy the feeling of having the familiar weight of a book in my hands as I read. This is especially relevant for 'old-school' or 'antique' magic books; it's a great feeling to be holding a book that you know magicians have been holding for over a century!
eBooks:
– You don't need to wait for delivery. Once you buy them, you can start reading straightaway.
– You can carry lots of them around with you wherever you go. With physical books, there's only so many you can fit in your bag before it gets out of hand. However, as long as you have your device on you, you can access your whole library of magic trick eBooks at any time, in any place.
So as you can see, there's advantages to both. Right now, the deciding factor is that most magic books haven't yet made the shift to eBook. So even if you think eBooks are better, you can't avoid the fact that the range of selection is a lot more limited! However, I imagine this will definitely change going forward and we'll see more and more magic books supported on eBook.
What do you think on the debate?
Feel free to weigh in using the comment section below.
Extra resources
---
If that wasn't enough for you, check out the following resource:
https://trickshop.com/free-downloads.html
This page contains seven free magic trick eBooks, including one that deals with a classic of magic, The Cups and Balls. The Cups and Balls is possibly the oldest trick in magic, and you can now discover how to do it in this eBook.
At this site, you can also find lots of magic trick eBooks here, however they do cost.
WARNING: I have not tested these downloads. They look safe, but please download at your own risk. Thanks.
I hope you enjoyed this blog post about the best magic trick eBooks. Just drop me a comment below if there's questions that you still need answering, and I'll do my best to answer them!
---
---
The Top 100 Magic Books: Of all time?
Ouch.
Don't ask how long this took to write, it gives me headaches just thinking about it.
We've recently written an incredibly article on the top 100 magic books for magicians. It's really informative and each book is amazing in it's own right.
If you haven't seen it yet I'm going to throttle it down your throat with a call to action link below…