Smoke magic tricks can be one of the slickest effects in magic.
In today's post, I'll be giving you all the information you need to know about smoke magic tricks.
Here's what we'll cover:
When should you use smoke magic tricks
The top 6 smoke Magic Products on the market
The best smoke magic tricks for different effects
The most affordable smoke magic products
The best quality magic products
Pure Smoke VS SSS
When should you use smoke magic tricks in performance?
I personally, when watching smoke magic performances, find it most special when it's used sparingly to enhance an effect (that said I can understand the appeal of disappearing in a pile of smoke.) Do you feel the same? Using smoke can be a great tool to distract your audience, while sublimely enhancing the magic effect.
It's also a great way of using a hook for your magic (which is vitally important).
A hook is a quick and visual trick that gets the audience's attention. Once you've got their attention with your hook, you can go into the routine that you've set up.
Smoke magic tricks are the perfect hook because it is very visual and doesn't require any talking or discussion.
The Top 6 Smoke Magic Products
This is just my personal opinion of course.
If you have any disagreements or suggestions let me know in the comment section below.
I will be taking in numerous factors e.g. the price, effects, quality extra…
Smoke Magic Tricks Number 6 pick: SSS by Shin Lim
S.S.S (Sleeveless Silent Smoke) is Shin Lim's signature effect that he uses in his 2 times FISM winning act and his TV appearance in Pen and Tellers Fool Us that went immediately viral the next day.
Whether you're a street, parlor, or stage performer; you will be able to apply S.S.S to your regular routine. Be able to create clouds of white smoke silently and beautifully, with no sleeves or complex hookup on your arms or wrists, from your bare hands.
Theirs a Box: Included in S.S.S and is a special tubing that has been custom manufactured internationally.
Instructional Download: Theirs an in-depth tutorial, where Shin teaches you his very own version of S.S.S that he performs on a regular basis, as well as different variations or options:
Color Change with smoke in the mouth
Performing S.S.S completely surrounded
S.S.S without a table or Close-Up Pad
This is a great smoke magic trick if you are on a budget.
Smoke Magic Tricks Number 5 Pick: Pure Smoke by Ellusionist
You will produce smoke from your bare hands whenever you want. Thick, vaporous smoke…
The smoke they use is actually water-like vapor and is harmless.
Pure smoke is a contained unit, designed to produce magic smoke and deliver it to your hand when required. The device has to be worn, and as such requires that you use a jacket or coat to hide the workings. It's ready to go, the moment the package arrives. You will need to use regular batteries to power Pure smoke, and these can run out quite quickly with everyday use. Pure smoke uses specially made cartridges that contain the Vegetable Glycerin liquid. You simply need to plug in a cartridge, put on the device, turn it on and you are ready to go.
This is a great smoke magic trick if you perform a lot of your magic tricks strolling around (something SSS can't do very well).
Smoke Magic Tricks Number Four Pick: Smoke E by Bacon Magic
Smoke E by Bacon Magic is one of the best smoke-producing devices I've come upon.
Here's what makes it special:
It's only $20 dollars! Crazy!
Theirs no electronics to mess up and it is amazing every single time. There are no batteries, nothing to replace and the cartridges are like 2 bucks each to refill and they last a while.
This product really is amazing (the reason it isn't ranked higher is that it's not the easiest product to buy).
Highly recommend!
Smoke Magic Tricks Number 3 Pick: Smoke 2.0 by Alan Rorrison
Want to produce a cloud of smoke from your mouth on command?
Check.
Created by Alan Rorrison, SMOKE is a simple, powerful effect with infinite applications. It's the ultimate utility device.
Since release, SMOKE has been our all-time most popular trick – and for good reason. The reviews speak for themselves: "Genius. Remarkable. Deceptive. And practical."
The smoke created using SMOKE is not actually smoke. It's a harmless vapor, made from organic compounds. It causes no irritation or discomfort whatsoever with responsible use. This new version also allows for bigger bursts of vapor.
SMOKE 2.0 is all-new, with a totally new gimmick handcrafted by Terry Ady and video instruction by Robert Smith in New York. Enough supplies are included for close to a thousand performances – and refills are available at any time.
Smoke Magic Tricks Number 2 Pick: Smoke Watch Pro by Joao Miranda
I absolutely love this effect. It's worth every penny that's for sure!
The Smoke Watch Pro produces beautiful clouds of smoke which sublimely enhances the magic effect. This watch is slicker, slimmer, and more comfortable to wear than ever before.
The newly redesigned circuit board makes this not only more comfortable to wear but has a better smoke or longer smoke production depending on your preference and an internal battery, so you no longer have to remove and replace it. The wireless charger is simple to use and easy to carry.
You can also now activate the watch not only using the normal activation but now it can also be activated by simply pushing on the crown. Even the smoke pipe has been improved. With its new turbine design, it is extremely durable and will not come off unless you remove it manually. This innocent-looking watch has quite the secret.
Smoke Magic Tricks Number 1 Pick: Mystery Smoke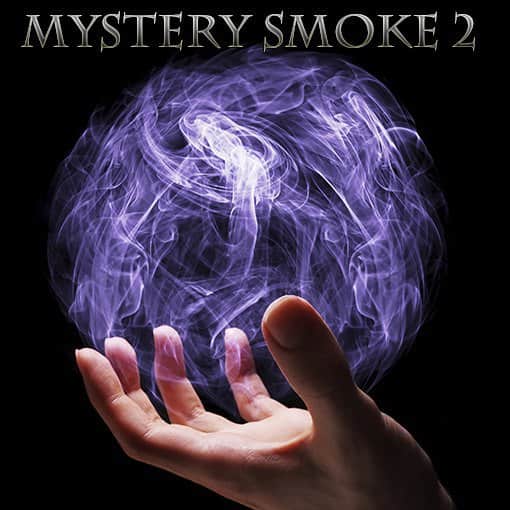 I love this device!
Create smoke from your bare hands with this secret device. This modern device will allow you to produce a puff of smoke anytime during your performance. Imagine taking a coin and making it disappear into a puff of smoke.
This will take regular everyday tricks and turn them into something really amazing. You will look like a true magician being able to produce smoke on your command. Turn almost any trick into a miracle. The trick will require sleeves, jacket, or a button up shirt. Just show your hands empty and create smoke at anytime.
The trick is repeatable instantly. Once you are setup you are ready to produce smoke whenever.
They give you enough smoke cartridges for over 500 puffs. Here you can purchase more refills
Comes complete with 10 smoke cartridges, USB power connecter, and smoke sprayer. The USB unit can charge by plugging into any laptop or usb charging device.

The "all clean" Velcro hookup (show your hands clean) And an instructional online video showing the basic setup of the device. It does not include magic routines.
Best Smoke Magic Tricks For Different Types Of Effects
Smoke 2.0 Alan Rorrison is really cool too but is not the same kind of smoke device. It is for different purposes (making smoke from your mouth as opposed to making smoke come from your hands). Still, fun to play with and a great way to add smoke to your routine without breaking the bank. (Smoke v1 is cool too but in the v2 the marker actually works, which I think is a big plus)
Link: https://store.theory11.com/products/smoke-alan-rorrison
The rest of the products listed above are primarily useful for smoke from your hands magic tricks (but there are a lot more tricks you can perform using them, which you can either copy or create)!
What is the highest quality smoke magic trick product?
The best smoke device is probably Mystery Smoke. It's one of the most versatile smoke production out there. You can produce smoke with or without sleeves and it has a built-in smoke/vanish tool built-in! 10/10 .. highly recommend
What are the most affordable smoke magic products?
Smoke E by Bacon Magic. Just 20 dollars!
SSS is Cheapest, and good for people that are happy with DIY and modification.
I think Smoke E is the better pick.
Smoke from Your Hands Magic Tricks – Pure Smoke Vs. SSS Which is Best?
These two products are great for producing smoke from your hands.
I've heard a few people comparing them so I'll quickly give my opinion on it.
This question is a subjective one because it's dependent on your personal needs and prefrences.
Here's a list to help you decide on which one is most important to you.
Pure Smoke:
I want this to work the moment I get my device.
I want to use normal batteries.
99% of the time I will be performing magic tricks strolling.
I need to set this up quickly at my gigs.
It's a gift, so I like products to come in attractive packaging.
SSS:
I'm on a budget.
I want to do more than make magic smoke appear from my hands.
I like to be able to replace all the parts easily.
I prefer to do this sleeveless.
I would like to be taught a range of other uses for magic smoke.
I want cheap and easy refills.
I need this to be almost silent.
The Bottom Line:
Sore Wallet = Smoke E by Bacon Magic
Money To Burn = Smoke Watch Pro
My Personal favourite = Mystery Smoke
I hope this was helpful.
Please let me know if you have any Smoke Magic Trick recommendations or suggestions.
Thank you for reading the complete guide to smoke magic tricks.
See yah in the next blog.