Street magic is awesome for numerous reasons.
Why?
First of all, it allows you to practice new effects.
Second, it is a great way of building confidence and developing your social skills.
Third, it gives you practice.
Fourth it builds fluency in performance style and scripting!
Fith it's a great way of earning money.
Amazing right?
In this blog post, I'll be walking you through everything you need to know in order to be an amazing street performer!
Want to start performing street magic but don't know where or how to start? Are you sick of feeling nervous or getting dead audience reactions? Do you get rejected when approaching groups of people to perform? Feel awkward asking for Money?
If you said yes to any one of these then stick around because in this blog post you'll be learning a few unique strategies and lessons to help deal with this problem, begin to perform better, generate great reactions, and most importantly learn to have fun.
Here's what we'll cover:
What is Street magic?
The Different Types of Street Magic (and which one best suits your interests!)
The best types of magic tricks to perform on the street
Aproaching strangers without being a creep
Showmanship
Dealing with nerves
What to do if a magic trick goes wrong
Asking for money
Let's get started!
What is Street Magic?
Street magic falls into two genres; traditional street performance (also known as busking where you build an audience with the ultimate goal of entertaining and getting paid). Or guerilla magic (such as the likes of David Blaine in which you are performing to an unpaying group of people or person) and is a 'hit and run" style of magic where you give the audience a feeling that what they are seeing is impromptu, unrehearsed, and experimental.
First of all, before you do any street magic you should decide which type of genre you want to perform in.
Are you planning on busking or doing it more David Blaine style such as walking up to a random group and performing?
The best type of magic tricks to perform on the street
There are a number of factors to consider when performing street magic.
I recommend:
Learning street magic that's as visual as possible.
You will find the reactions are much better if it is visual. Street magic has got a reputation for being visually amazing and so when you perform magic tricks for people in public this is what they expect. The public can be pretty honest in their opinions and harsh as critics, so it is best not to let them down!
Trying to use ordinary or borrowed objects.
It is best to use items that are ordinary and not magic props. The idea is that you can perform magic tricks with anything and everything, so it is best to create that illusion. Steer away from obvious magic props like boxes and things you would ONLY find in a magic set or magic shop. If you can borrow someone's phone or personal item and perform an amazing magic trick with that, you will see your reactions go through the roof.
Coin routines are nice for beginners to magic in general because there is a lot of material on coin magic and everyone has quarters, dimes, and nickels in their house.
How to approach people in the street to show them magic
The most important thing in street magic is audience evaluation and management. You don't want to interrupt people who seem busy and rushing places, they most likely will say no, and if they say yes, they'll often be impatient and have a "Hurry up and get on with it" attitude. If more people start surrounding you, make sure you can make sure the secrets go unnoticed or you're gonna be very embarrassed when someone points out what's happening. Pick effects that aren't angle-heavy or have great amounts of misdirection, audience management on the street can be tough since the size and position of that audience can fluctuate.
What you don't see on those magic TV shows.

The camera is on the magician approaching an unsuspecting member of the public and asking them to check out his magic trick. The spectators love it and the camera films their reactions, before moving on to the next scene. There is a LOT more going on than this!
Street magic TV shows show the audience at home, exactly watch the director and producers feel will be the most entertaining footage to watch. The reality of stopping people on the streets to show them something is very, very different. If you went out now, to your local high street and started stopping people you will hit these problems:
People are busy and don't know you.

Normally, people watch magic because they choose to do so. They may be at a party or dinner or even have gone to see a show. Entertainment is the primary activity of the evening. Compare that to a busy high street, and you can see why performing magic on the street is not easy. You become a distraction and a nuisance. Stopping people in the street can be very different from putting on a magic show as a street performer. They are attracting a crowd, who stop to watch by choice. The spectators made their own minds up to watch some magic. If you intend to stop people from going about their business and ask them to watch you instead, you need to be ready for a lot.
Rejection.
A great experience for magicians thinking of performing on the streets is to try their hand at high street market research. It's a very quick way to grow a thick skin as you deal with constantly being rejected. It's likely that you will experience this as well when you try to stop people on the streets to show them magic. This is one of the aspects of filming a TV show that doesn't get shown. Even famous magicians with an exciting film crew set up get rejected over and over again as they stop people. If you are new to performing, we usually warn against street magic, until a good level of confidence has been built up, as the rejection can be very depressing and demotivating for beginners.
You may need a license to perform.
Street magicians can sometimes require a license.
The Importance Of Showmanship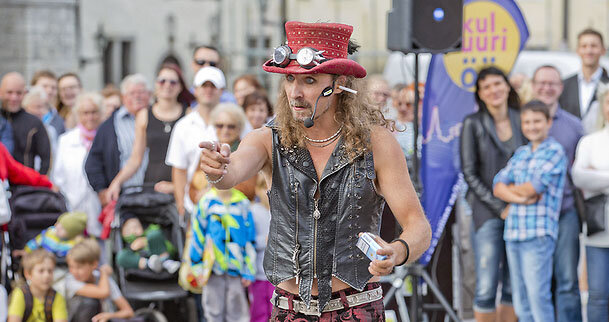 Do you want to get great reactions from your magic? Or do you want to really want to work your audience?
The biggest difference between a bad and good magician is that the good magician knows how to perform. In fact, it often has very little to do with how 'advanced' the tricks are; many of the best magicians in the world use incredibly simple tricks and techniques.
The secret lies in being able to perform and work with an audience.
Think of it like playing the Piano. It's one thing being able to know which notes to play, and it is another skill altogether to know HOW to play them; playing them softer or louder, crescendo or diminuendo, etc.
It's the same for magic. Just learning the tricks and moves themselves is no guarantee that you'll be able to wow people. The key to wowing them is knowing HOW to sell the tricks and perform.
And the best way to master that art is by reading and implementing the tips of a book called Strong Magic!
This book is all about how to get better reactions to your magic and understanding how to really work your audiences.
It's written by Darwin Ortiz (who is commonly named one of the greatest card magicians of all time, coincidentally) and was published in the 90s so is a bit more 'up to date than the previous book.
Some of the most valuable insights I gained from this awesome book revolved around building a routine and above all, persona (or brand) for your magic.
For example, Darwin talks about the importance of using a 'hook' within your magic. A hook is a quick and visual trick that gets the audience's attention. For example, the floating card is a great hook because it is very visual and doesn't require any talking or discussion.
Once you've got their attention with your hook, you can go into your routine that you've set up.
This is just the kind of thing that you will learn in the book; loads of tips and hints like this are dropped throughout every chapter.
How to deal with nervousness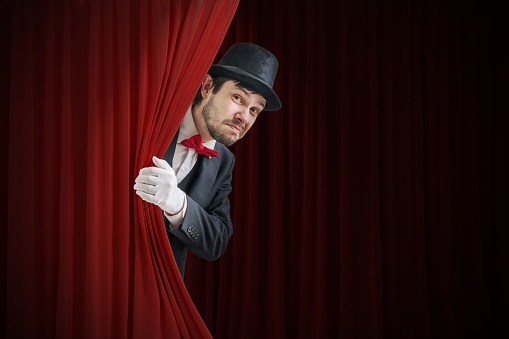 Let me guess?
You've mastered the mechanics and moves of your trick to near perfection.
But the truth is you get super nervous when performing around people and you can't seem to do any of my moves. Your hands shake, your mind blanks on the tricks you know, and most importantly – end up making a fool of yourself and making every mistake in the book. Perhaps you try to wing it and make it even worse. (I know the feeling).
I'm guessing your performance talk is crap as well.
Your Problem?
It might be how you practice.
I'm assuming here: My guess is you'll sit in a chair practicing a move over and over again until you get it. Then you'll string a bunch of moves together to form a routine then, still sitting in a chair, you'll practice those moves in sequence over and over again.
Then you'll try to perform it and you'll go into the first move and feel their gaze where it isn't supposed to go so you'll get nervous because they'll see the move and that completely throws you off. When you practice, you are putting all of your attention on the move.
John Ramsey tells us that to make someone look at something, you look at it, and to make them look at you, you look at them.
Another way of saying that is where your focus is, the spectator's focus will be. So when you go to perform the way you practice, you are telling your audience (through your body language) where the moves are.
This is the opposite of what you want. Moves should be not just invisible, but undetectable. To do this you need to learn how to direct attention, not just away from moves, but towards the effect.
Let's look at a coin vanish. I have a coin in my right hand. I want the audience to know it's a real coin and I want them to be sure it's actually there so hold it in front of me while focusing my gaze on it, maybe tap it on a table to indicate that it's solid.
Now I need to do the move. I want to shift attention away from the coin so look up to the spectator as the move is being done.
Now I want to shift attention to the left hand so my gaze moves from the spectators to the left hand which is mimicking the action of holding a coin. My right-hand falls casually to the side in a position to draw the least amount of attention possible to it.
That whole moment should not be noticed by the spectator.
Now is when the magic happens.
Do some magic moment, and slowly open the hand. Notice how the move is just a small beat in the middle of two long stretches (the first stretch is presenting the coin, the second stretch is the vanish). Those two stretches should be expanded and the move should be minimized as much as possible.
So what does this have to do with nerves? If you're doing the same coin vanish from a magician's point of view, all that is accounted for is the move.
If instead, you look at your magic from the spectator's point of view the move (the part you're nervous about) is such a small moment that you can completely choreograph it to the point where you don't have to think about it.
That way you can enjoy and embellish the moments between the moves. When all your present is a sequence of moves you're constantly nervous that you're going to get caught and you're thinking back on the moves they may have seen and the moves you still have to do. Expanding the moments between allow you to relax and build tension/relaxation cycles.
There's more though. Body language is so important to the presentation. I do a coin and pen routine and for the big finale I reach inside the coin and pull out the pen in a really visual way, but I wasn't getting the response I wanted.
I figured out the reason was the way my shoulders were after the revelation – they were squeezed tight and raised up which was communicating to the audience that I was unsure of the finale.
The audience doesn't know how to feel during a performance so they subconsciously read from the performer how they should feel. I changed it by lowering my shoulders and moving my arms out in an expressive way and immediately got a way better response. But it's not just about audience response. Shifting your body language also affects your own confidence.
I hope that helps! Don't forget it's normal to feel nervous but you shouldn't let it stop you.
P.S I found this piece of useful advice on Reddit. It's not mine.
What to do if a magic trick goes wrong
If you ever ask a magician "What should I do if my magic trick goes wrong?", they'll be able to spout out hundreds of answers.
Most likely they'll talk to you all about 'multiple outs' and 'backup effects' and 'improvisation'.
All of which are most definitely GOOD suggestions.
But in this article, I want to suggest a perhaps counter-intuitive solution that requires absolutely zero work, and will still keep the respect of your audience.
But first, let me just say:
I get it.
When things go wrong, it sucks.
The thing is, things can go wrong in an effect you're performing WITHOUT you realizing. Maybe you accidentally actually mix the cards when you were only trying to false shuffle. Maybe you get sloppy and miss the classic force without noticing.
All kinds of stuff can go down mid-performance without your knowledge.
And when you finally find out, it's a pretty rude awakening.
"Alright, turn over your card to show everyone, as predicted, the nine of….whu—??"
As I mentioned we could talk about multiple-outs and 'magician in trouble' plots all day, but I want to suggest something a little simpler:
Own the mistake and move on.
Let me let you in on one of the biggest secrets in magic:
Your audience treats something as important only if YOU treat it as important. They follow your lead.
Think about how an audience would react to a magician that got visibly flustered and stressed over an apparent 'mistake' in the routine.
The audience would perceive that the mistake was a 'big deal' and so treat it the same way themselves. They'd feel awkward, embarrassed for the magician…and overcome with a sudden desire to get as far away from this whole mess as possible.
On the other hand, if the magician laughed and brushed it off like it's nothing, the audience would sense that it's of little importance to the success of the overall show (heck, some of them might even think it was some kind of 'planned' gag).
The bottom line is:
Be gracious, don't make the spectator feel like it was their fault (even if it 100% was!), and don't take yourself too seriously.
That's it.
Sure, it's not quite so high-tech or fancy as having 100 envelopes hidden on your person, each with 4 separate predictions, covering you for nearly any eventuality…
…but would you REALLY want to carry that around to every performance anyway?
For me, it just comes down to how 'free' you feel like a magician.
If you HAVE to rely on multiple outs in order to have the confidence to perform an effect, how free are you? Doesn't that feel like a constraint, a limitation?
Wouldn't you rather practice having the grace and class to move on when something goes wrong – so that you're free to perform whatever you want, without needing to first set up your 100 multiple outs?
To me, that sounds pretty good.
Maybe I'm crazy.
Let me know what you think.
Do you agree?
How to ask for money without sounding grabby
Want to take the busking approach to street magic?
If you feel like you want to get paid for your entertainment but feel embarrassed about it because you sound really grabby I understand.
Try not to think about it too much.
If you produce a quality trick that entertains people you deserve to get something back.
I'm not really a busker myself, but I've picked up a few things watching that get a positive reaction from the audience.
The best hat lines consist of a careful blend of humor and sincerity.
You need to diffuse the inherent awkwardness of asking strangers for money, but you also need to accurately convey to them the worth of what they've just seen and how much you think it's really worth.
Too much humor and people just laugh as they walk away. Too much straight talk and they avoid the awkwardness of waiting in line to hand you money and just leave.
Find the balance.
Please note this is just my personal opinion on asking for money. Please let me know if you have better ideas.
What Now?
A fantastic piece of advice for magic, in general, is to practice, practice, practice. Start out with friends or family and eventually go out. Most importantly, have fun! Street magic is supposed to be light-hearted, fun, a breath of fresh air.
You should also check if you need a license.
I hope you found this helpful!
Thank you for reading the complete guide to street magic. See you in the next one.